Kicksharing, or scooter rental service, is gaining momentum in Ukraine. Micromobile rental services are in demand among both young people and adults. The reason is simple – the electric scooter allows us to move comfortably and quickly to any point, bypassing busy sections of streets and traffic jams. Experts say that for every 1000 inhabitants in modern conditions, at least 1 electric scooter is required.
What is more, you don't need a driver's license or driving experience to use these vehicles. The growing popularity of electric scooters makes the sharing business financially interesting. However, for the rental company, it is necessary not only to resolve legal issues, to take care of the efficient organization of the service but also to choose the right electric scooters.
Why choose a kicksharing scooter responsibly
We can definitely say that not all electric scooters are suitable for rental business since the requirements for them are much higher due to the specificity and intensity of use. There are special "sharing models" of vehicles that are suitable for rental services. In addition, you need to remember that the experience of the trip will determine whether users will continue to contact your service and recommend it to their friends.
Why not all scooters are suitable for kicksharing
There are many manufacturers of electric scooters, so it is difficult to choose the right one. And for the sharing business, you will have to make a large purchase, so it is important not to miscalculate and not waste money. Devices differ in price, specifications, and capabilities.
When choosing, you should pay attention to:
battery (its' capacity and power). If the battery is weak, it will not be sufficient for long-distance travel. A commercial scooter must withstand at least 30-40 km without recharging;
tires. It is worth taking a closer look at the tubeless options that do not need pumping. This will allow the rental service to avoid additional repair costs;
anti-vandal bolts. Considering the realities of our country, where hooligans can remove the battery or unscrew the wheels from an electric scooter, anti-vandal bolts on vehicles for kicksharing are just a must-have;
protection against water and for the safety of QR code, GPS tracker, etc.
However, the most important feature of a sharing scooter is its "smart" software (IoT). It is enough to insert a SIM card into such models, and they are ready to use. Please note that IoT and scooter manufacturers are different, so you can buy scooters from one company, and "smart filling" from another. Ready-to-use commercial electric scooters will cost between $ 350 and $ 500 (excluding shipping).
How to choose scooters for kicksharing
During the development of the application for Vzhooh, Quazom specialists updated the IoT firmware and charged them with SIM cards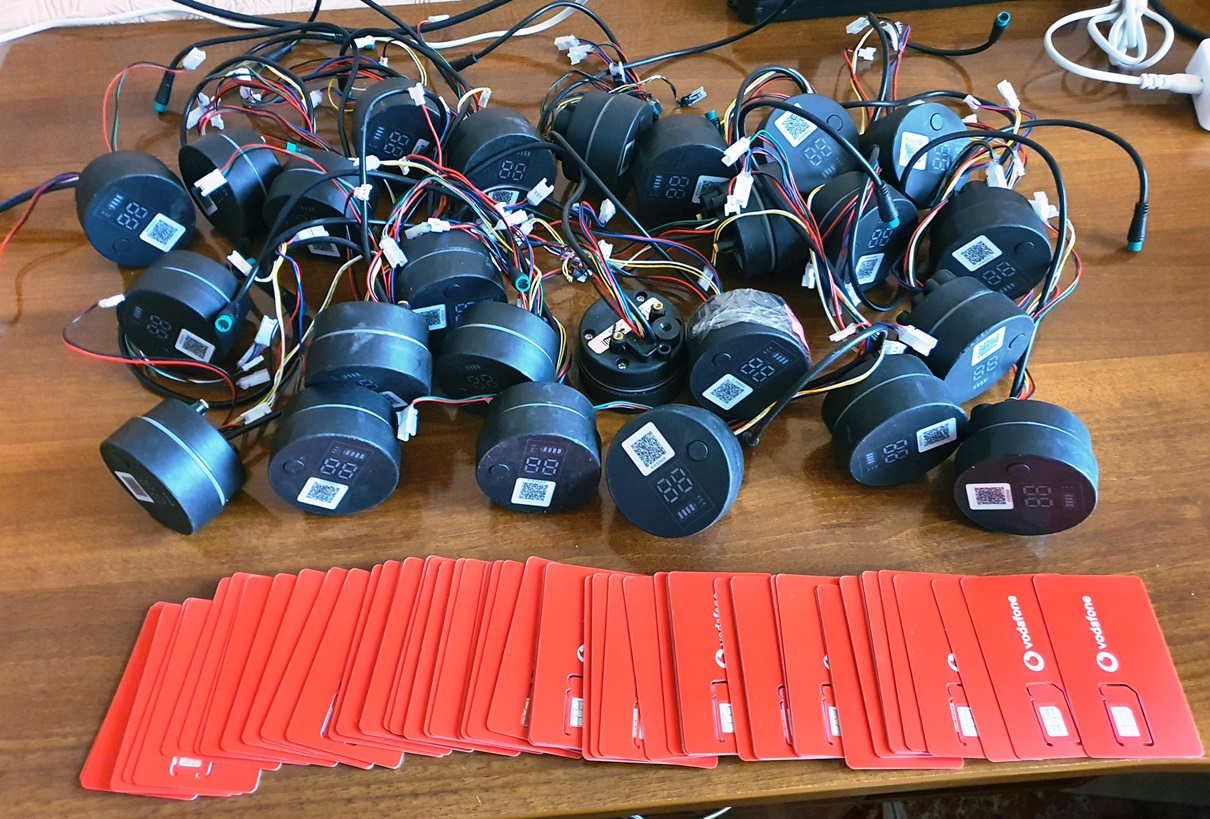 What is the IoT
IoT modules come with a SIM slot. These are "smart" blocks that allow you to control a vehicle via the Internet, install security systems, and significantly simplify operation control. They also have a GPS sensor to track the position of the electric scooter. There have been cases when vehicles were stolen from rental companies, and the police found them by GPS and came to an unsuspecting thief.
The use of commercial scooters with IoT provides such opportunities:
control of the battery charge;
unlocking by signal or vice versa – blocking the engine, wheels;
wireless control of the lock after the end of use;
installation of anti-vandal protection;
use of anti-theft functions, etc.
Keep in mind that there are various types of IoT modules for scooter sharing. When choosing, it is critical to pay attention to the features of managing a "smart" system, the availability of the necessary functionality, and the degree of protection. The price will differ depending on the manufacturer, device model.
IoT Manufacturers
Of all the scooter IoT manufacturers, Omni is considered one of the most popular. With over 10 years of experience in export manufacturing, this company is now the largest provider of IoT micromobility. The production facilities of the enterprise are based in China, near Shenzhen.
The Ukrainian company Quazom has developed functional software that works great on electric scooters with the Omni's IoT. All that remains is to buy and insert a SIM card with a suitable tariff plan to start the vehicle into operation. By the way, such a mobile application is already used by the Vzhooh sharing service, which has been actively developing its business in Ukraine since June 2021.
How to choose scooters for kicksharing
One of the electric scooter models with IoT firmware compatible with our app to start a scooter sharing business quickly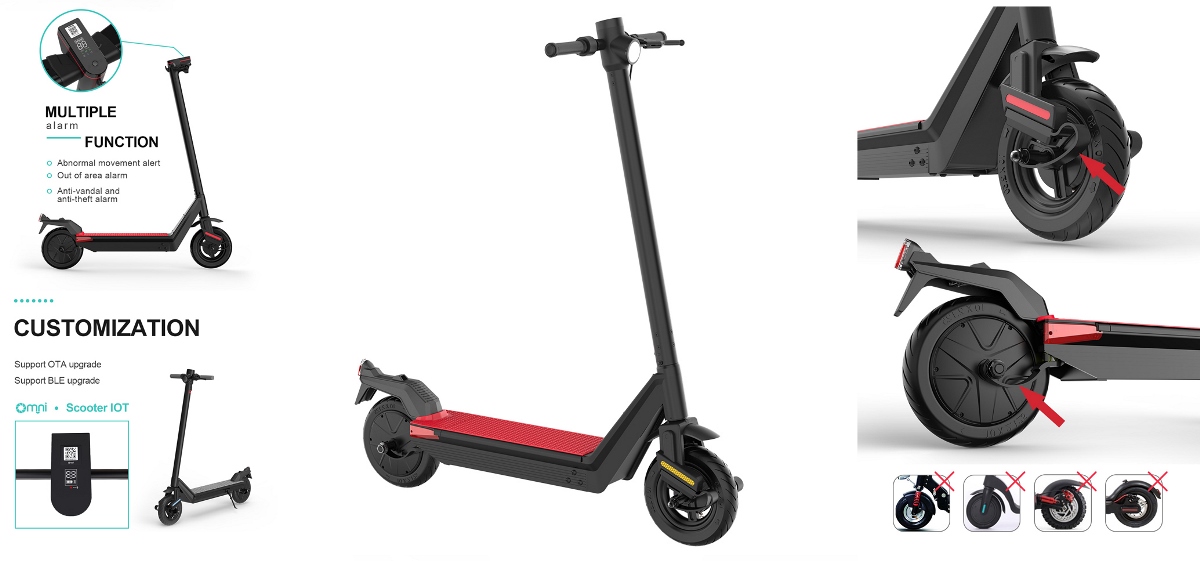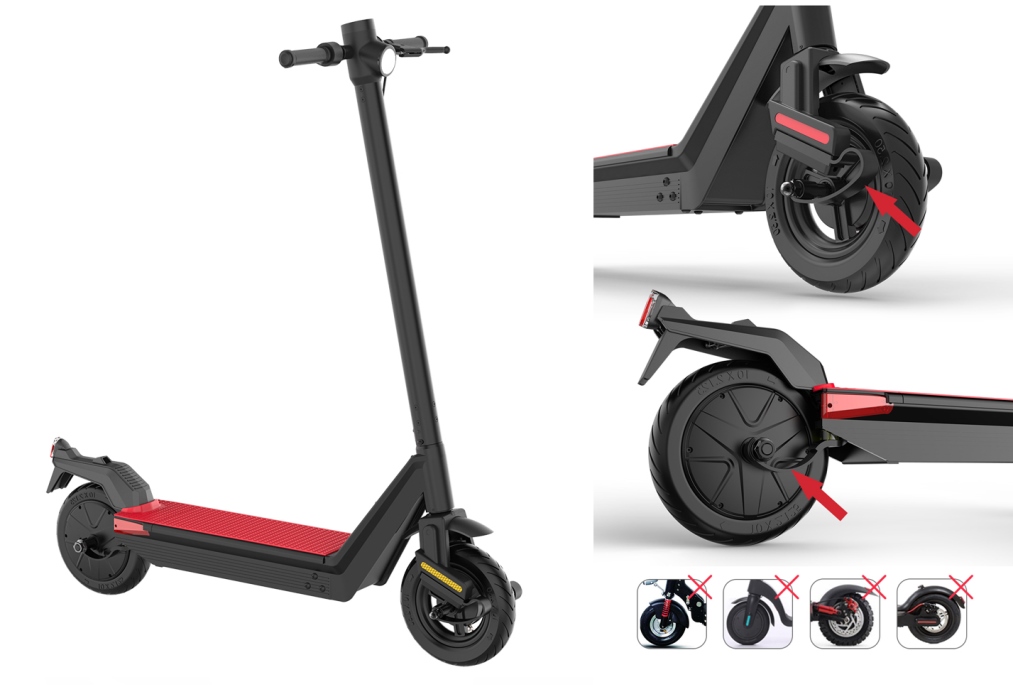 Scooter manufacturers
Let's take a look at the brands and models of sharing scooters that are in demand among rental services:
Dongguan Changxing Intelligent Technology Co., Ltd. In particular, the 103P model is of interest in the company's lineup. These scooters are produced with 36V 10Ah, 36V 13Ah, and 36V 15.6Ah rechargeable batteries (designed for a range of 35 to 62 km). Full charge time is 4 to 6 hours. Dongguan Changxing Intelligent Technology Co.'s electric scooters can be used at temperatures ranging from -20 to 45 degrees (-4 °F – 113 °F). They look stylish visually – they are made of black aluminum alloy. They develop a speed of 20 to 30 km/h, which is quite enough for city driving. Please note that the devices are designed for a user weight of up to 100 kg.
Shenzhen Xinli Intelligent Robot Co., Ltd. The company offers several models of scooters for kicksharing, which differ in the material of manufacture, battery power, mileage without recharging, etc. For instance, the Max G30 model has the following characteristics: maximum user weight – 130 kg, mileage without recharging up to 55-60 km, lithium-ion battery 36V 15Ah. The scooter is capable of accelerating up to 30 km/h. Also, pay attention to the ES-M3 model. This scooter has a 48V 8-14Ah battery, designed for a distance travelled of 25 to 50 km without recharging. This is an advanced scooter made of aluminum alloy (the model comes in black). The vehicle is designed for a user weight of up to 130 kg.
Ninebot. If we consider this brand, then it is worth paying attention to the ES2 model with cruise control and an informative display on the steering wheel. The scooter has a maximum speed of 25 km/h and is designed for a user's weight up to 100 kg. Energy-intensive, a 37V 5.2Ah battery is used (an additional battery can be installed). This electric scooter can be operated at temperatures from -10 to +40 degrees (14 °F – 104 °F). The device is equipped with double brakes, the travel is quite stiff. It's nice that this model has a recuperation system – recharging when moving by inertia or going downhill.
Production of electric scooters for kicksharing business from one of the wholesale suppliers to Ukraine
The Quazom company is ready to advise on all issues of interest and provide contacts of direct manufacturers, whose scooters can be used for kicksharing services. You will find the contact numbers for communication with representatives of the company on the website. Experienced specialists will help not only with the choice of vehicles for further use in the rental business but also offer a range of services – the development of mobile software for managing sharing scooters, as well as its effective promotion on the Internet.